Cambridge Airport safety concerns highlighted in leaked emails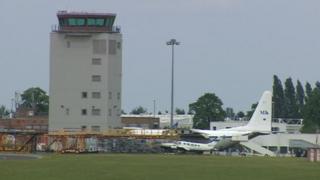 A BBC investigation has found evidence of safety concerns at Cambridge Airport.
Leaked management emails, and the evidence of two whistle-blowers, have highlighted concerns about equipment failures and the state of the runway.
Documents and evidence also suggest air traffic controllers have been working excessive hours and under-qualified staff have been used due to shortages.
Aviation consultant Chris Yates said the BBC evidence was "deeply worrying".
Between May and September last year, an airport manager warned his bosses that air traffic controllers were having to "bend the rules" and resort to "dodgy" practices to cope with "chronic staff shortages".
One email talks of "times when planes should have been diverted".
A former airport worker told the BBC the problems had been going on for several years.
"I tell my friends and family not to fly from Cambridge in the summer," he said.
Radar operation fears
The airspace around Cambridge is busy and in the past four years, the Civil Aviation Authority (CAA) has undertaken investigations, known as Air Proximity Reports, into 14 near misses in the skies around the city.
In one incident a helicopter came within feet of hitting a vintage aircraft at 1,500ft, and in another incident two jets were described as "very very very close to a collision".
The pilot of a Boeing 737 taking off from Cambridge feared a collision with a light aircraft, which was flying in uncontrolled air space.
Air traffic control was not found to be at fault in any of these cases.
However, the investigations did highlight underlying concerns within the CAA that the radar was not operating and it issued urgent recommendations to the airport.
The airport is part of the Marshall Group, an aerospace company which has an annual turnover of £1bn and is currently working on a £1.5bn government contract to service RAF Hercules aircraft.
Last year, the airport made a loss of £4.8m and was due to offer for tender a new £16m runway contract last year. The project is now due for completion in 2015.
However, in leaked emails, a manager complains about "underfunding since year dot" and that landing aids including radar are "all antique and fail frequently".
Pilot shocked by debris
"When you saw a large aircraft taking off you could see parts of the runway lifting up behind it," he said.
"I noticed it had a large chunk of debris stuck to one of its main wheels.
"The pilot was really quite shocked when he saw the object for himself.
"He was extremely grateful that we were able to intervene and prevent him from taking off."
Independent consultant Chris Yates, a former aviation security editor, was shown the BBC's findings.
"I've never in the 20-plus years I've been doing this job heard anything quite so dramatic," he said.
Cambridge Airport managing director Steve Jones told the BBC: "We utterly refute the implied allegation that safety has been compromised at Cambridge Airport.
"Cambridge International Airport has undertaken a significant and ongoing programme of investment in the facilities and operations of the Airport, ensuring that the highest standards are maintained."
Mr Jones said there had only been three unforeseen circumstances in 2013, when formal reports for longer hours had been submitted to the Civil Aviation Authority (CAA), and no member of staff had reported concerns.
CAA considers allegations
The CAA told the BBC it had not found evidence to substantiate any of the allegations, and added that the airport met all the required levels of safety.
"Air traffic controllers had not breached CAA regulations," it added.
"They have been allowed limited extensions of working time under very strict conditions.
"Safety is not compromised by this extension and constant monitoring ensures that controllers do not become fatigued.
"We were aware of one incident of tar being lifted off the runway.
"This tar was a repair to the runway surface and was dealt with straight away."
The CAA said it would consider further specific allegations but had not received whistle-blowing reports about Cambridge Airport in the past two years.