Cambridgeshire police seek 'I am great in bed' badge owner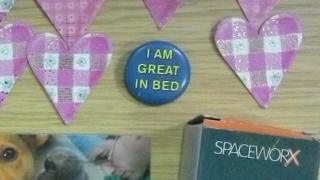 Police in Cambridgeshire hope the owner of a badge that says "I am great in bed", believed to have been stolen, will come forward to claim it.
The small blue badge was among a number of items, including jewellery, recovered from a house in Peterborough.
A spokesman said: "Some of the pieces are very distinctive and I'm sure the owners will recognise them."
Other items recovered include a box of paper clips and pen with a tiger's head on it.
Det Con Jason Hancock said: "I would urge people to take a close look at these items as we are keen to find out where they are from."