Amina Agboola case: Toddler accused 'calm and unemotional'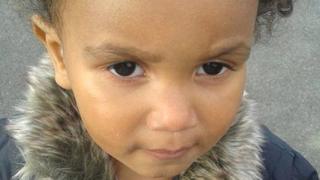 The man accused of killing a two-year-old girl who died from a blunt force injury to her liver appeared "calm and unemotional" when she was taken to hospital, a court has heard.
Amina Agboola, of Scott Drive, Peterborough, was treated at her home on 21 November but died later.
Her mother, Sarah Racqueman, 29, denies causing or allowing her death.
Ms Racqueman's boyfriend Dean Harris, 19, denies murdering Amina but has admitted a charge of manslaughter.
Cambridge Crown Court heard a recording of a call Mr Harris made to the emergency services on the morning of her death.
"My girlfriend's daughter fell off the toilet and she smacked herself straight on the concrete. She's very drowsy, she's not even talking, she's got her eyes open," Mr Harris told the operator.
'Rag doll'
He said Amina's breathing sounded "trapped".
Paramedics described the child as looking "like a rag doll" when they arrived at the house.
An inquest concluded Amina died from a ruptured liver and "blunt force trauma" to her abdomen.
Her liver had been split in two, the court was told, and there was evidence of older injuries on her body including a recently broken arm, bruises to her face and skull, and bite marks on her cheek and forearm.
Mr Harris later accepted he had kicked Amina in the stomach but said he did not intend to cause her serious harm.
Bruised stomach
Giving evidence, Dr Catriona Thompson said she saw Amina when she was first admitted to Peterborough City Hospital at 09:05 GMT on 21 November.
"She was pale, and brought into the room in the arms of an ambulance man, she was not moving much in his arms.
"She was wearing a pale pink T-shirt. She was floppy," Dr Thompson told the court.
She said she then became aware of a bruise that had developed above Amina's stomach button.
Dr Thompson told the court Ms Racqueman appeared "devastated" when told of her daughter's death.
When questioned by prosecutor Zoe Johnson about Mr Harris' demeanour, Dr Thompson said: "He seemed calm throughout, unemotional.
"There wasn't much reaction from him at all, actually."
In a written statement, paediatric nurse Jean Smith said she had asked Ms Racqueman about Mr Harris, and had been told he had been involved in domestic violence with a previous partner and that Cambridgeshire Social Care had told Ms Racqueman not to leave her child unsupervised with Mr Harris.
The trial continues.