Relate Cambridge offers counselling gift vouchers as wedding presents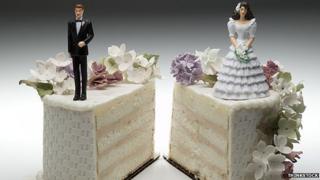 A relationship counselling charity is offering vouchers for marriage guidance sessions as wedding gifts.
Relate Cambridge suggests its gift vouchers would be a good way to "nurture a relationship".
Vouchers given as a wedding present could help couples prepare for marriage, a spokeswoman said.
Relationship "MOT" vouchers are also available as "anniversary gifts". Funds raised from sales will be ploughed back into the charity.
'Hazardous process'
"Relate Cambridge is recognising the importance of the preventative work it does on relationships with the new gift vouchers," the charity's Elaine Taylor said.
"These make thoughtful, practical and unusual gifts and give couples the best possible opportunity to stay on the right track with their relationship.
"I've looked around and haven't seen anything else like these gift vouchers before."
A couple who married last year put counselling sessions with Relate on their wedding gift list, she added.
Asked whether people would consider the vouchers a suitable gift, Ms Taylor said: "Getting a gift right is a hazardous process.
"You have to hope that people receive them and understand they were given with good intent.
"People might think, 'Oh my goodness, they obviously think I've got a problem', but I think the whole perception has to change.
"To have some time to anticipate the challenges, and have some strategies, is a much more positive approach than saying 'somebody thinks that we're heading for separation and problems'. That's not what it's all about."