Crumbling Wicken model village help offers received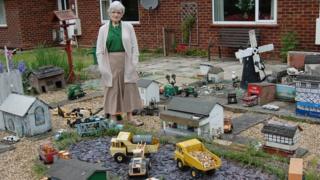 An elderly widow who pleaded for help to save a model village from crumbling away in her garden says four people have since offered to repair it.
Pat Bullman and her late husband Oliver created the village in Wicken, Cambridgeshire, over a 50-year period.
It became a tourist attraction, but recently the 80-year-old has been unable to save it from the elements.
Doll house makers and odd-job men had got in touch offering to help save it, Mrs Bullman said.
"One man from Soham called in to say he could help if he can find the time when he's not working and another man rang me," she said.
"I was really surprised. I didn't think anyone would be interested."
The couple started the front garden display with just one windmill, which they put in for their daughter.
Over the years they added a fire station, railway station, hotel, fish and chip shop and a church, among many other buildings.
Mr Bullman was still hand-crafting new pieces for the unnamed village in his back garden workshop until his death two years ago.
But Mrs Bullman said she now hoped to open its doors again this weekend after another man offered her some wood to repair the buildings, and she managed to get "half a bin bag full" of unwanted paint from a DIY shop.
"It was lovely. I was really flabbergasted," she said.
She hopes to be able to get the men in to help with the building work in the next few weeks.