Local elections: Peterborough and Cambridge power changes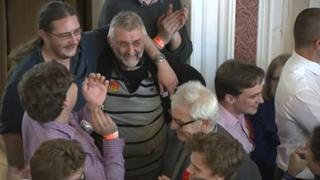 The Conservatives have lost control of Peterborough with the UK Independence Party making gains, while Labour has taken control of Cambridge.
UKIP gained three seats in Peterborough at the expense of the Tories and no party now has overall control.
The declaration of some seats at Cambridge City Council means Labour will be in charge there for the first time in 18 years.
The Tories held both Huntingdonshire and South Cambridgeshire.
In Huntingdonshire, UKIP gained two seats while the Liberal Democrats gained Godmanchester ward.
'Issues of fairness'
The Conservatives maintained control of South Cambridgeshire District Council with a total of 35 seats.
With the Tories also losing a seat to Labour in Peterborough, they have 28 seats on the unitary local authority, while Labour has 12, the Liberal Democrats have four, UKIP has three seats, Liberals have three and there are seven independents.
Conservative leader Marco Cereste said he was confident he had enough support from rival parties to form a majority.
Cambridge City Council had been run by a Lib Dem administration, although no party had overall control.
Labour party leader on the council, Lewis Herbert, said: "We've got the opportunity to tackle a whole range of challenges that face us.
"We've got a housing crisis, we've got congestion issues, we've got issues of fairness in a city like this - not everybody's got the same benefits out of the prosperity that Cambridge is experiencing."
Voting also took place on Thursday for the European Parliament's East of England constituency and the count for that will take place on Sunday.