Cambridge candidates grapple with housing and transport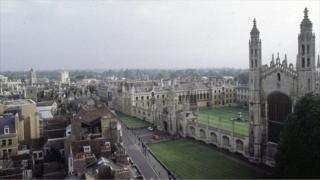 The election for Cambridge City Council on Thursday will be a key battleground between the main political parties.
The city has had huge success in attracting new businesses, particularly firms capitalising on the scientific academic success of the university.
But the success has brought its own problems with the number of homes built falling short of the demand.
With house prices rising by 25% over recent years and a creaking transport system, these have become the key issues facing candidates in the election.
Executive councillor for planning and sustainable transport Tim Ward, the Lib Dem candidate for the Arbury ward, said "high quality cycle paths" are helping persuade people to stop using cars.
He added: "We as a council are planning to build many more houses. House prices are high because people want to live in Cambridge because there are jobs available and there is a high quality of life.
"If we build over the green fields, you end up with a poor quality of life."
Leader of the Labour group on the council, Lewis Herbert, the party's candidate for the Coleridge ward, said: "We have a major congestion problem in the ring road around Cambridge - we have seen 7,000 homes built in the last 10 years.
"We are not getting the funding we need for transport. We need to look at the way the city centre works and need to have a big think about how people get into the city.
"The fundamental problem is there are more jobs and more demand for homes than there is housing available."
Deputy chairman of the Cambridge City Conservative Association Timothy Haire, Conservative candidate for Cherry Hinton, said: "We have a massive housing shortage particularly in the centre of Cambridge.
"We need more houses but we need to have infrastructure in place."
He said there was too much "fiddling around the edges" with transport in the city, and it was time to have a proper inquiry to produce a "unified transport scheme" for Cambridge.
Campaign manager Joel Chalfen, who is the Green Party candidates for Queen Edith's ward, said it was important that new homes were developed on brown field (urban) land rather than green fields.
He added: "Just because Cambridge is a growing and prosperous city, it does not mean everyone is wealthy, we still need to bear in mind the need for social housing."
Mr Chalfen said the success of public transport depended on its "frequency and reliability" and was vital to stop the rise of congestion in the city.
Peter Burkinshaw, the UKIP candidate for the East Chesterton ward, said: "I think the problem is that there has been an explosion in house prices helped by the government's Help to Buy scheme (which helps first time buyers get mortgages) - that is driving up prices in Cambridge but not helping build any new houses.
"On transport we need to spend more money improving the roads in Cambridge. We are building flats but not building more parking spaces or more access roads."
He added that the council had "gone bonkers" supporting cyclists with cycle ways sometimes at the expense of drivers and pedestrians.
A full list of candidates standing for a seat on Cambridge City Council is on the council website.