Elouise Keeling: Asthma girl death left 'gaping hole'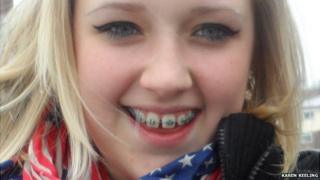 A mother has said she has been left with a "big gaping hole of not knowing" after her daughter died when an ambulance went to the wrong address.
Elouise Keeling, 14, had a severe asthma attack and collapsed at RAF Brampton, near Huntingdon, last June.
Coroner David Morris ruled in March her death "could not have been avoided by any more timely arrival", but Karen Keeling said the verdict was not fair.
The East of England Ambulance Service said it was "deeply sorry".
'Torn our world apart'
Elouise, who had asthma since she was 18 months old, died at the scene on 25 June as her mother and other family members looked on.
Her inquest heard that an ambulance called at 19:44 BST went to RAF Wyton, 10 miles away, by mistake and did not arrive until 20:03 BST. She died soon afterwards.
The coroner said Elouise, who had been at an RAF sports day, died from an acute asthma attack.
But her mother, speaking to BBC Radio Cambridgeshire, said she "believed 100%" that Elouise could have been saved if medical help had arrived on time.
"I was with her only minutes after she went unconscious and I saw the deterioration over the period we were waiting for the ambulance," said Mrs Keeling.
"I would have been quite happy with a verdict that said no-one will ever know whether she would have survived, because that's how I feel about it.
"Because the help didn't arrive, no-one will actually ever know, but unfortunately it's left us with that big gaping hole of not knowing and it has absolutely torn our world apart."
The East of England Ambulance Service's chief executive, Dr Anthony Marsh, said the trust was "deeply sorry for letting the family down" and he had personally apologised to Mrs Keeling for the delays.
He said a number of actions had been set out to ensure it would "never happen again".