St Neots Cineworld cinema opens after building blunder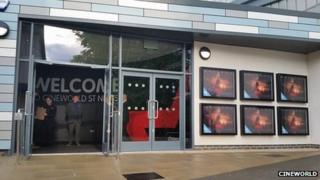 A cinema that had to be knocked down and rebuilt over a 30in (75cm) error has opened after an eight-month delay.
The Cineworld in St Neots, Cambridgeshire, was built as part of the £8m Rowley Arts Centre complex in the town centre.
Last year residents complained the partially-built structure was too close to their homes, leading to builders finding an error.
The cinema opened with a screening to hundreds of schoolchildren earlier.
Last year, Britannia Construction said the error arose because it had been given incorrect drawings from architects.
JWA Architects, based in Leicestershire, declined to comment.
It is thought the error cost up to £1m to rectify. Last year, a Cineworld spokesman described it as "unfortunate news".
The six-screen cinema is based at the new multi-million pound Rowley Arts Centre, which boasts four restaurants, live performance facilities and a play area.
It came about after US businessman Peter Rowley donated £1m for a leisure facility in the town.
Residents initially voted for a cinema to be built back in 2007.