Huntingdon cat found at animal shelter after eight-year roam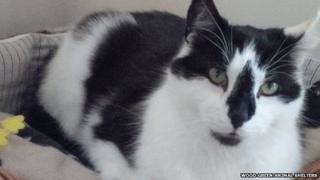 A couple have found their cat eight years after he went missing while looking for a new pet on an animal shelter website.
Ollie wandered off from Caroline and Nick French's home in Huntingdon, Cambridgeshire, in 2006.
They only decided the time was right to find a new pet last month and were "shocked" to see his photo on the Wood Green Animal Shelter site.
Mrs French said they recognised him due to his "very distinct facial markings".
In August 2006, the couple had just moved to the town when the then four-year-old cat disappeared and after an extensive search they presumed the worst.
They put up posters and spoke to neighbours, but thought they would not see him again.
In April this year, after having two children, the couple decided to get a new cat and began searching online.
'Settled well'
They said they "couldn't believe it" when they saw a picture which resembled black and white Ollie but they "just knew it was him".
They emailed in a picture and were told he had been cared for by a woman not far from their home for about 18 months before being brought to the shelter.
"Ollie was happy to see us... and we are so happy to have him back," said Mrs French.
"He appeared much calmer than the lively young cat we'd once known.
"He has settled in really well at home with us and the children love him... it's still hard to believe that we found him after all this time."
Wood Green spokeswoman Gail Lees said: "We were delighted to be able to reunite him with his original family."
The wanderer has now been microchipped, they added.