Swan shot by crossbow in Upwell is put down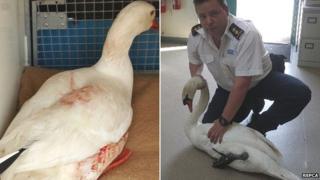 A swan shot through its shoulder and tail in an attack in Cambridgeshire has been put down by the RSPCA.
The bird was shot with two bolts from a crossbow on Sunday in Upwell in what the charity said was part of "a sustained attack on the wildlife of the area".
The swan had been cared for at the RSPCA's hospital at East Winch, Norfolk.
Last month a goose was found near Elm with a crossbow bolt in its back.
Under the Wildlife and Countryside Act it is an offence to take, injure or kill a swan. Punishment can include fines up to £5,000 or a prison sentence of up to six months.