Hauxton's agrochemical plant 'cleared for home building'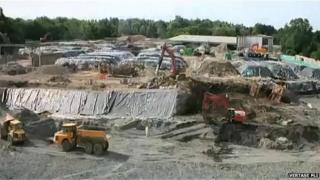 Work on up to 380 new homes can now begin on the polluted site of a former agrochemical factory in Cambridgeshire.
Permission for the new houses on the former Bayer site at Hauxton was granted by South Cambridgeshire District Council in 2010.
Developers were told work could not start until contamination was removed.
The Environment Agency, Public Health England and the district council have now given Harrow Estates approval to submit plans for the homes and roads.
A further condition is that the site is completely covered with a soil cap measuring one metre (39ins).
Jo Mills, director of planning at the district council, said: "We have always been very clear that no homes can be built until the developers provide the required evidence that the site has been cleaned up to stringent standards.
"The next step will be for the developers to show how they would build homes, provide drainage and roads on the site.
"Until we are 100% satisfied with these plans no building work can be carried out."
The factory was established in Hauxton in the 1940s and produced pesticides and herbicides before closing in 2004.
During work to decontaminate the area, residents complained about "noxious fumes".
Harrow Estates, which owns the site, said it completed decontamination work in November 2011 but had been completing the removal of pollutants.