Prof Mary Beard 'undeterred' by social media trolling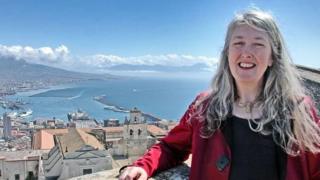 A leading Cambridge University academic who has fallen victim to trolling on social media said the extent of the abuse remained "largely hidden" because most was too graphic to be publicised.
Prof Mary Beard, a classicist and broadcaster, has received a bomb threat as well as ongoing personal abuse.
She told the BBC trolling would not deter her but feared it was putting other women off public-facing careers.
"Deeply-embedded sexism" needed to be "challenged", she said.
Prof Beard, 59, first received abusive messages after appearing as a panellist on the BBC's Question Time programme last year.
She said she dealt with ongoing criticism and abuse by re-tweeting messages or speaking out about them.
"Women are really up for being criticised, but what I'm not up for is being threatened and abused in a way that I couldn't start to tell you, because you'd have to bleep it out," she said.
"People don't have a clue, partly because you can't print this in standard media or say it on radio. They just think that people are being a bit nasty about your hairstyle."
'Head above parapet'
Prof Beard added: "There is absolutely no doubt that women get subjected to this more than men.
"Every study that has been done shows women get it worse."
She referred to social media abuse of women in the public eye as a sign of "a deeply-embedded residual form of sexism in our culture that doesn't want to listen to a woman speaking with authority".
"I'm very happy that we don't agree with each other, we can have a discussion and you can criticise my arguments, but I don't actually think the appearance of my private parts have got anything to do with that," Prof Beard said.
"I'm pretty resilient. I don't like it, but it doesn't stop me going back on the telly and putting my head above the parapet.
"What's dangerous is that it probably does put loads of women off engaging in politics and talking in public because they look at what happens to people like me, and quite reasonably for some of them, they say, 'No, thank you'."
She said she felt "very optimistic" about opportunities for herself and other women, but added: "There is still, underneath all that, a really deep, ingrained level of sexism in this country that you see coming out in social media, and we have to think about how we can challenge that".
Prof Mary Beard features in Blurred Lines: The New Battle of the Sexes on BBC Two at 21:30 BST on Thursday 8 May.