Stourbridge Common guerilla 'Spudgate' plot dug up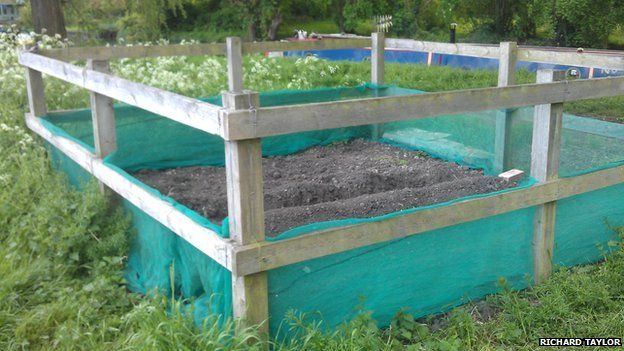 A potato patch illegally planted on common land in Cambridge has been dug up by city council workers after a deadline for its removal passed.
An anonymous "guerrilla gardener" took over the Stourbridge plot, added a rabbit-proof mesh and planted potatoes.
The council wrote to residents saying it would be dug up if not removed.
In an email to the BBC, the gardener dubbed the row "the Stourbridge Spudgate" and said it was "a little excessive to flatten the land again".
The woman, who did not wish to be named, said she thought the potatoes would "add vibrancy to the area"
The plot of land on Stourbridge Common, near the Green Dragon Bridge, had been fenced off by the council to a protect a tree that has since died and been removed.
An email signed "The Guerrilla Gardener" was received after BBC Radio Cambridgeshire asked who was responsible for planting the potatoes.
The writer said she had lived in Cambridge for many years and moved on to a houseboat on the river three years ago.
Taking over the empty plot was "a bit of fun" to make use of the land and was carried out by "a law-abiding citizen who regularly clears litter... and dog dirt" from the area, she added.
She claimed to have cleared the area over several days and planted 20 seed potatoes.
However, the city council was alerted and wrote to residents asking for it to be removed.
Green spaces manager Alistair Wilson said: "We know the person who did this holds a river mooring licence, which states you cannot cultivate the bank.
"We're not against 'guerrilla gardening' where it does not have an impact, but this area needs to be kept clear for everyone to use.
"We gave people a deadline of today and that has passed."
The potato was dug over late on Wednesday, and the gardener said: "Sadly, I found the area totally cleared... and the potato ridges flattened.
"It seems a little excessive to me but I expect they wanted to nip such behaviour in the bud."
Mr Wilson said the potatoes would not be destroyed and the "owner" could collect them from the council.
"But they will have to reimburse us the cost of reinstating that part of the common if they want their potatoes back," he added.
Related Internet Links
The BBC is not responsible for the content of external sites.