Papworth Hospital move to Addenbrooke's Cambridge site confirmed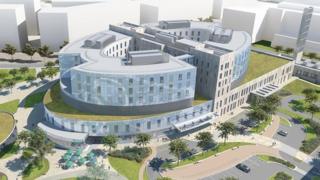 One of the UK's largest specialist heart and lung hospitals is to move to the Cambridge Biomedical Campus, the government has confirmed.
The new NHS Papworth Hospital will be built close to Addenbrooke's in the south of the city.
The hospital will move from Papworth Everard, 13 miles (20km) west of Cambridge, by 2018 at a cost of £165m.
The move is a result of a long-running campaign to replace the old hospital, some parts of which are 150 years old.
The plans were called into doubt in February when the Treasury stalled the move in order to ensure it represented the best value for money for the taxpayer.
'Vitally important'
One possible option was to move Papworth to Peterborough City Hospital's site instead.
Chief Secretary to the Treasury, Danny Alexander, told the BBC the department had needed to take time "to get it exactly right", but has now given the project the go-ahead.
"This ambitious package will ensure that patients across the East of England continue to benefit from access to world-class specialist treatment, will secure Papworth hospital's future location, and help further develop its world-leading capabilities," he said.
The £165m cost of the hospital move is being partly funded through a 30-year Private Finance Initiative (PFI) deal, and partly through public sector funding, a hospital spokeswoman said.
Papworth Hospital currently treats more than 23,700 in-patients and day cases plus nearly 65,000 outpatients each year.
Construction of the new 310-bed hospital is expected to begin in 2015 and should be complete by 2018.
In 1979, the UK's first successful heart transplant was carried out at Papworth and the current hospital has 276 beds.