Crossbow attack on 'last goose' in Cambridgeshire village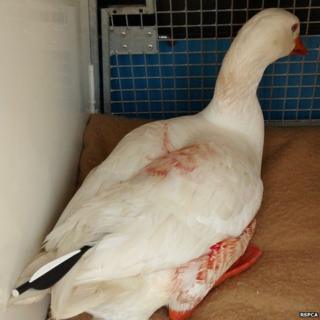 A goose which survived being shot with an airgun and a crossbow in Cambridgeshire has been described as "indestructible" by the RSPCA.
Achilles is being treated in Norfolk for his most recent injury after being found in Elm, near Wisbech, with a crossbow bolt embedded in his back.
An RSPCA spokesman said he was the last goose living on the village pond as others had been "run over or shot".
They have appealed for information about his "horrific" injuries.
Inspector Jon Knight said X-rays showed not only the bolt wound, which is thought to have been inflicted last week, but also an old fishing line wound to one leg, an airgun pellet embedded in its left leg, a healed fracture to the right wing and septic arthritis in his feet.
Razor-tipped bolt
"This poor goose has been through a number of wars. It is pretty amazing he is still with us," he said.
"We named him Achilles after the virtually indestructible Greek demi-god because of the number of ordeals he's survived. It seemed fitting somehow."
The goose was one of a number living around two ponds in the Cambridgeshire village, but Mr Knight said Achilles was now the last one.
"Many have been deliberately run over or shot with airguns, and on one occasion used as a football, over the past five years or so. No perpetrators were ever identified," he said.
The bird was taken to the RSPCA's East Winch Wildlife Centre near King's Lynn, where the razor-tipped bolt was removed.
Manager Alison Charles said: "The goose is doing well now, but is very lucky to be alive.
"The injuries were truly horrific. If [the bolt] had hit him anywhere else on the body it would have killed him."