Littleport ironmongers preserved as village heritage centre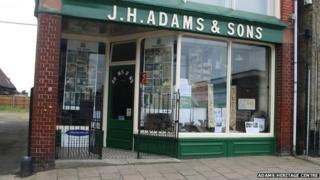 A piece of high street history has been preserved by villagers who have turned a former ironmongers into a heritage centre.
JH Adams & Sons, was based in Littleport, Cambridgeshire for over 100 years until it closed in 2011.
Now its original late 19th Century interior has been restored after a trust was set up to run the centre.
The shop was given to the village by businessman Peter Audus and it will re-open in July.
The ironmongers was owned by the Adams family until 1982 when they sold it to David Porter, who in turn sold it to Mr Audus.
The modern shop fittings have now been stripped back to reveal the late 19th Century interior, complete with a wooden counter and mahogany shelves and drawers.