Reprieve in Cambridgeshire tithe barn sell-off fight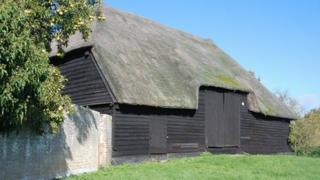 A village group fighting to prevent the sell-off of their Tudor barn in Cambridgeshire has won a reprieve.
The Landbeach Society was told by South Cambridgeshire District Council - the barn's owner - it had until April to save the Tithe Barn at Landbeach.
The barn needs £100,000-worth of repairs.
Now the council, which says it can no longer afford the running costs, has agreed to give the society six more months to raise funds.
The council said it hoped a trust could be set up to keep the barn in public ownership.
'Very special place'
The Grade II-listed building, which dates back to the early 16th Century, could be sold as a dwelling or similar development.
As part of cost-cutting measures, the council wants to sell the building unless The Landbeach Society, to which it is leased, can raise enough funds to maintain the structure.
Robert Stripe, chairman of the society, said: "Landbeach is a wonderful place to live but we have very few amenities and it would be a travesty if we lost this historic building, which has been part of our culture for hundreds of years."
Carolin Göhler, chief executive of conservation group Cambridge Past, Present and Future, said: "When we heard about the plight of the Tithe Barn we offered the village society and parish council our support and advice in trying to help save it.
"This early Tudor barn is obviously a very special place, which, with the correct investment and an increased pool of volunteers, could be enjoyed by the local community for many years to come."