UB40 Corn Exchange gig draws complaints about loud music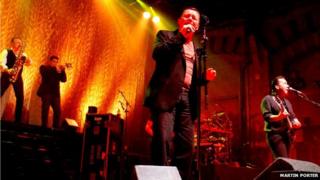 Music at a UB40 concert was so loud it was "altering heart rhythms" and caused a fan's ear to bleed, it has been claimed.
Anna Webster said she left Monday's gig in Cambridge along with up to 30 other people because of the noise.
A spokesman for the band said he was "sorry that Anna's night was spoiled".
He said no-one told the crew on the night that the music was too loud. No complaints were received by the venue at the time of Ms Webster's concerns.
Ms Webster has been offered free tickets to another gig as an apology.
She told BBC Radio Cambridgeshire she left the concert, at the Corn Exchange, before the reggae veterans had finished the first song.
"It was just horrendously loud - the bass was vibrating even in the foyer," she said.
"There were so many people walking out because they couldn't deal with it. It was vibrating through your whole body - it was actually altering heart rhythms."
'Steam train'
Ms Webster, from Willingham in Cambridgeshire, said the noise caused her ear - which already had a perforated drum due to a condition from childhood - to bleed.
Angela Paffett, from Alconbury, who was also at the gig, said: "The bass crashed into you like a steam train. I had a pain in my chest."
Stella Jackson, from Arsley in Bedfordshire, also left early. She said the gig was a "waste of money" and gave her a headache.
A UB40 spokesman said he contacted BBC Radio Cambridgeshire after hearing about Ms Webster's concerns and then apologised to her if her evening was "spoiled". He said she was happy with the offer of VIP tickets to a gig in Wolverhampton.
Ear plugs
He said he believed "the vast majority of people were not affected", adding that the band's sound engineer had been informed about the complaints.
A Cambridge Corn Exchange spokesman said the venue always worked within "strict health and safety guidelines" and ear plugs were made available for people on the night.
He said the responsibility for the concert's sound levels lay with promoter DHP Concerts.
DHP Concerts said sound levels were the responsibility of the band's crew.
Health and safety law at the venue states that the continuous sound level should not exceed 107 dB, with the peak sound pressure level not exceeding 140 dB.