Benefit fraud UKIP councillor Peter Lagoda quits party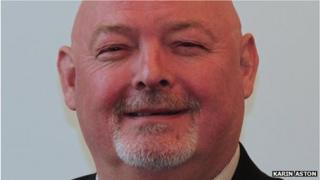 A UKIP councillor who committed benefit fraud and who used racist language has quit the party, claiming he was "badly let down".
Peter Lagoda, 60, represents Wisbech South on Cambridgeshire County Council.
Lagoda, who was given a 12-month community order after pleading guilty to benefit fraud last month, said UKIP had "not backed him up".
UKIP said Lagoda had been supported, but added: "We cannot have councillors guilty of a benefit fraud."
'Racist and derogatory'
Lagoda had been suspended by the UK Independence Party when he was first charged with the benefits offence, the group's Cambridgeshire leader, Paul Bullen, confirmed.
The councillor was also the subject of a county council investigation following racist remarks he allegedly made during a visit to a fire station in January.
The probe concluded the language he used at Wisbech fire station "could be interpreted by a reasonable person as racist, derogatory and discriminatory in nature".
Lagoda did not deny the allegation, but said the comments were made "as part of a private conversation".
He confirmed he had quit UKIP, adding: "UKIP doesn't care about anyone else. They've let me down badly by not backing me up."
Lagoda claims he has the support of his constituents and says he will continue to represent them as an independent.