St Neots footballer David Deeney charged by FA over tweets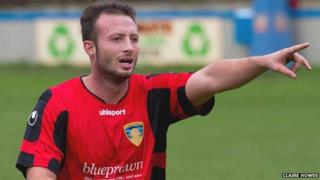 An amateur footballer has been charged by the Football Association (FA) with posting nine allegedly abusive or insulting tweets.
The FA said it was investigating claims that two of St Neots defender David Deeney's posts were discriminatory about a disabled individual.
Two more posts allegedly had comments about sexual orientation and a third about gender, an FA spokesman said.
Mr Deeney, 27, said on Twitter he was not commenting on the matter.
The FA would not reveal the exact content of the tweets but said Mr Deeney had until 9 April to respond to the charges.
When the investigation by the FA began last month, St Neots Town said it regarded the comments as "totally unacceptable" and it would follow a "strict and confidential disciplinary path to resolve the matter".
The Cambridgeshire club, who play in the Southern League Premier Division, said Mr Deeney had also been enrolled onto a residential Sporting Chance Clinic programme in order to "support" the player and "help him resolve any issues that he may have".
The clinic was set up by former Arsenal and England defender Tony Adams in 2000 to provide counselling for sportsmen and women.
Responding to the charges on Twitter, Mr Deeney said: "Charge me 45 times I'm not going to change. I am who I am but out of respect for the football club I'm not commenting on it."