Cambridge mental health cut protesters defy sit-in deadline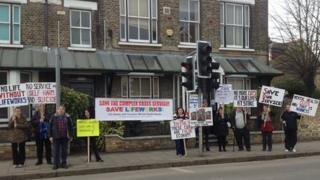 Protesters staging a sit-in over plans to close a Cambridge mental health service have refused to quit despite the decision being put on hold.
Cambridgeshire and Peterborough NHS Foundation Trust said Lifeworks had been due to close earlier as part of a bid to save £6.5m from its budget.
The trust had asked the group to leave the Lifeworks building by 12:00 GMT.
The protesters, who have been in place for three weeks, refused to go and the trust said negotiations would continue.
About 20 people use the Lifeworks drop-in centre on Tenison Road in Cambridge each week, the trust said.
'Box-ticking exercise'
When the decision was taken to close it, a spokesman said the trust had contacted all those who used it, and had offered advice on alternative local services.
"We also offered to find and pay for another venue where the group could meet for the next year, although we would not be able to staff it," he added.
However, protesters unhappy about the decision took up residence in the building on 4th March.
Alex Jones, who uses the facility, said the group felt alternatives would be "more restrictive" and many people would be referred back to their GPs.
Between 12 and 25 people have occupied the building each day.
Ms Jones said: "In a letter, the trust said they wanted us out by noon, but we're not going to leave.
"We're still sitting-in because they have just put the decision to close on hold, while they reconsider it.
"It's just a box-ticking exercise, in my opinion."
The Trust said earlier: "We are... planning to have further discussions with all those affected. All options over the future of Lifeworks remain open.
"These discussions cannot take place however until the people who are occupying Tenison Road have vacated the building."
However, after the protesters failed to leave, a trust spokesman added: "We made the request and they are still there, so we will continue to try to negotiate with them."