Bottisham homes evacuated after shed blaze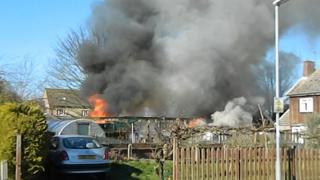 Three people were treated for breathing in smoke and four homes evacuated after a shed caught fire in a Cambridgeshire village.
Five crews tackled the blaze at Beechwood Avenue, Bottisham, which began at just before 09:00 GMT.
An eyewitness reported hearing "pops and bangs" and seeing a cloud of black smoke and flames 10ft (3m) in the air.
The fire, which crews believe was started by an electrical fault, has since been extinguished.
Cambridgeshire Fire Service evacuated the homes because of fears of gas cylinders in the shed exploding. A number were successfully rescued before they could catch alight.
The East of England Ambulance Service said three people were treated for minor smoke inhalation, but no-one required hospital treatment.
The fire was put out by 11:45 GMT, with the last fire engine leaving an hour later.