Norwich Cathedral peregrine falcon lays third egg of 2014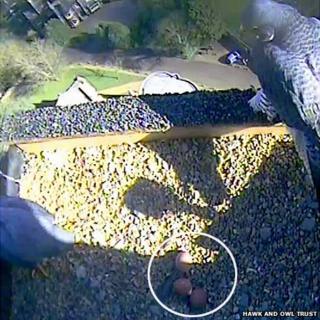 A third egg has been laid "bang on schedule" by a peregrine falcon nesting on Norwich Cathedral spire.
The egg was laid at 12:09 GMT, but not revealed to live nest-cam viewers until a couple of hours later when the male took over sitting duties.
The first egg in 2014 was laid on Tuesday with the second on Friday, each roughly 60 hours apart.
The Hawk and Owl Trust said as the female was a "healthy bird" it was hoped the pair would have four eggs.
David Gittens, a Hawk and Owl Trust volunteer who monitors the live camera feeds, said: "The third egg was laid 60 hours and two minutes after the second - bang on schedule.
"The female had been sitting on the eggs since then, until the male came in and took over.
"As we know he has very strong paternal instincts, so as soon as she hopped off to stretch her wings he made a beeline for the eggs."
'Experienced parents'
Four chicks hatched in 2013, the second brood in the city since 2011.
The first permanent recording of a breeding pair in Norfolk for hundreds of years was in 2010 at a granary site in North Lynn.
Lin Murray, from the trust, said the Norwich pair were "very determined" and are now "experienced parents".
"The interesting things about the third egg arriving is the pair will now start to incubate them properly.
"Until now they've just been keeping them warm and ticking over.
"This means they'll then be feeding the chicks at the same time as they'll roughly be at the same stage in their development."
A watch-point at the cathedral, set up by the Hawk and Owl Trust, will open to the public from 1 April. Last year more than 30,000 people visited the site.