Cambridge University's zoology museum awarded £1.8m for refurbishment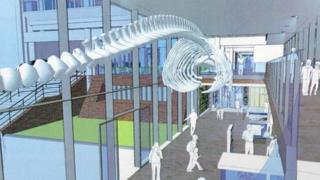 A museum in Cambridge has been awarded £1.8m towards what it describes as its "grand and ambitious" refurbishment.
Cambridge University's Museum of Zoology, which houses four million specimens at its Downing Street site, closed last summer for a £4.8m refit.
The museum will try to raise the remaining £3m itself, after the grant from the Heritage Lottery Fund.
Museum project manager Kay Smith, said: "We had our fingers crossed for the grant so we're absolutely delighted."
The museum opened in 1865 and is home to many of the specimens collected by the naturalist Charles Darwin.
It will be closed for three years, during which time it will turn from an "academic and somewhat distant museum", into an "up-to-date family-friendly site showcasing the importance of the animal kingdom to our evolution", Ms Smith said.
Plans for the 2016 re-opening of the museum, which attracts about 70,000 visitors each year, include new displays and education facilities.