South Cambridgeshire 19,000 homes plan to be scrutinised by government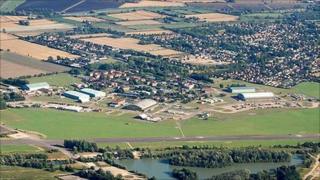 Plans to build 19,000 homes with the creation of a new town and village in Cambridgeshire will be decided on by the government.
South Cambridgeshire District Council gave its support to the Local Plan, which it says will create 22,000 jobs.
A new town is proposed for the former Waterbeach Barracks and a new village at Bourn Airfield.
An independent inspector will now scrutinise the plans, with public meetings being held later this year.
The Local Plan includes a call for:
A new town north of Waterbeach with 8,000 to 9,000 homes (1,400 by 2031)
A new village at Bourn Airfield with 3,500 homes (1,700 by 2031)
A development of 1,200 homes at Cambourne West by 2031
A development of 1,200 homes east of Cambridge called the Marshall's Wing development
The building of 110 homes north of Cherry Hinton
A 540-home development at Sawston
A 90-home development at Comberton
The building of 47 homes in Great Abington and six in Little Abington
The sites listed are in addition to the 14,000 homes already committed to in other locations, such as the edge of Cambridge and the planned new town of Northstowe.
'Tough choices'
Councillor Pippa Corney, cabinet member for planning policy, said: "Although an independent inspector will have the final say on whether the plan is sound, we have tried to listen to what everyone has said before agreeing what we believe is best for the area as a whole.
"We have had to make some tough choices but what is clear is that housing is much-needed to support jobs being created here, and to provide homes and a good quality of life for children growing up in the district."
In October last year, local campaigners handed in 1,543 letters of objection against the plans to build new homes at Bourn Airfield, with complaints about buildings homes in a rural area.
The Local Plan is a set of policies and land allocations that will guide the future of south Cambridgeshire over the next 20 years. Once adopted, all planning applications will be assessed against the policies in the plan.