Stag gore victim Dr Kate Stone faces third throat operation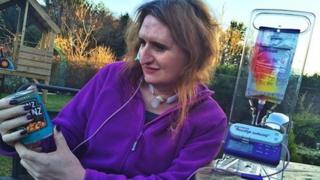 A woman whose throat was gored by a stag in the Highlands hopes a third operation could enable her to eat solid food for the first time this year.
Scientist Dr Kate Stone, 44, from Cambridge, was injured by the animal near Fort William on 30 December.
She suffered life-threatening injuries, but after two operations is now being fed through a naso-gastric tube.
If successful, surgery to repair her oesophagus scheduled for 25 March in Glasgow could enable her to eat again.
Dr Stone was on holiday with friends when the group startled a stag that wandered into a garden in Lochailort.
In its panic, the stag charged and hit Dr Stone leaving her throat impaled by one of its antlers.
It pierced her trachea and oesophagus, damaged her vocal cords and fractured her neck, before hitting her spine.
Dr Stone was put into an induced coma and underwent two operations at Southern General Hospital in Glasgow.
Three months later she faces another operation.
"There is basically a hole in my foodpipe, so if I tried to eat food some would shoot off to my lungs," she said.
"I'm getting fed up with the liquid food. I signed up as a vegan, but I didn't sign up for not eating anything at all.
"I'm fed what I call 'my vegan pig swill' through a tube, but all I really want is baked beans. I dream about them, and chips and curry sauce too," she said.
Dr Stone said despite the months of recovery she was "more happy and content than I've ever been".
"I value everything I have, especially my family and friends" she said.
"Our state of mind is all about how we choose to view our circumstances.
"But I really miss proper food. Bring on the beans - I'll even eat them cold."
If her operation is successful, Dr Stone could be eating solids within two weeks.