Peterborough referral unit allows pupils to smoke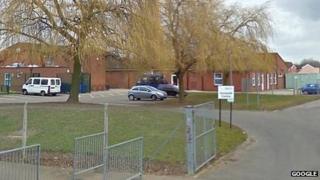 The head teacher of a school for children with behavioural issues has defended her decision to permit pupils to smoke.
Students aged 14 to 16 at the Honeyhill Pupil Referral Unit in Peterborough are allowed two supervised off-site smoking breaks each day, with parental consent.
Claire George said allowing smoking stopped some pupils from "absconding".
Peterborough MP Stewart Jackson said he had asked the city council, which runs the unit, to review the policy.
Ms George said: "Pupils who attend Honeyhill do so because they have failed, many more than once, in mainstream education.
"They are amongst the most challenged and challenging young people within the city and most have complex issues."
The school's approach to keeping them in the education system therefore had to be "different", she said.
"Our approach is that pupils who already smoke on admission can, with parental consent, have up to two 10-minute, off-site, fully supervised smoking breaks a day.
"We appreciate that some people will not agree with this approach, but we have found it far more effective than simply banning smoking, which our experience shows us leads to pupils not attending school or absconding during the day to smoke unsupervised, often in dangerous situations.
"All pupils are required to hand in smoking-related materials at the beginning of each day," she said.
'End the practice'
The pupils were also offered support to stop smoking, Ms George added.
A spokesperson for anti-smoking group Action on Smoking and Health (Ash) said: "If the unit does not allow alcohol or drugs, why would they allow smoking?
"It is totally out of kilter with current health advice and they should think seriously about reversing the policy."
The Conservative Mr Jackson said: "I've asked the city council to review this with the school and try to find a way to end the practice."