Vitalija Baliutaviciene could have been 'greater protected'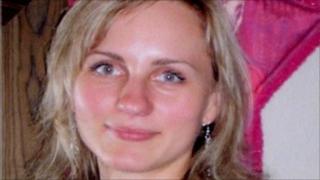 A woman who was kidnapped and killed by her ex-husband "could have been afforded greater protection", a report has said.
Rimas Venclovas, 47, was jailed for life for kidnapping Vitalija Baliutaviciene, 29, in Peterborough and dumping her body in Poland in 2011.
A domestic homicide review said it was "unlikely" the death could have been prevented by public services.
But "different actions at different times" should have occurred, it added.
Venclovas was jailed for a minimum of 20 years in November for murdering and kidnapping his Lithuanian ex-wife, who moved to Cambridgeshire to escape her "obsessed and jealous" ex.
'Clear determination'
Miss Baliutaviciene was last seen on CCTV being abducted on her way to work in Peterborough on 12 August 2011.
Her naked body was found in a field in western Poland two months later.
The review said the fact that Venclovas changed his name and physical appearance while police were searching for him, together with his "clear determination" to carry out the attack, made it "unlikely" that the subsequent death could have been stopped.
But communication failures were also highlighted, including threats by Venclovas to kill Miss Baliutaviciene that were overheard by the couple's son following a previous assault were not passed on to other agencies by a social worker.
A breakdown in the link between the police national computer and the UK Border Agency's own database of wanted people also meant Venclovas was not arrested when he returned to the country after skipping bail for one of the assaults.
The report, written on behalf of the Safer Peterborough Partnership, concludes that threats to kill must always be taken seriously and risk assessments across all agencies must include contingency plans if a perpetrator leaves the area and subsequently returns.
Supt Tony Ixer, from Cambridgeshire Police, said a domestic abuse unit had since started up at the force and procedures were now in place to make officers "as planned as we can be to prevent such tragedies happening in future".