Family kept apart by minimum income immigration rule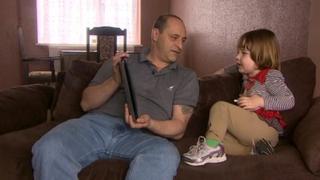 A former Royal Navy police officer has been told his American wife cannot live in the UK because he does not earn enough.
An Immigration Tribunal judge said David Chappell, from Peterborough, had to have an income of £18,600 before his wife Brandi could be granted a visa.
Mr Chappell said he could not get a job because he needs to look after their three-year-old daughter, Emma.
The judge said he should seek part-time work to supplement his navy pension.
Mr Chappell has a 10-year ban on travelling to the US after twice overstaying on a visitors' visa.
The Home Office told the tribunal that Mrs Chappell did not meet the £18,600 income or the £62,500 savings thresholds required.
Speaking from her home in the US, Mrs Chappell said: "I think the decision is despicable.
"All these people come from European countries claiming it is their human right but mine and my husband's human rights don't count.
"We are separated because we don't make enough money."
Mr Chappell said he was very bitter as he feels he gave "his all" as a serviceman.
"All I ask is that I have my family together but I can't have that. I have never asked for anything else and I feel very badly treated."
Judge Claire Hawden-Beal said: "All the sponsor needs is part-time work sufficient to make up the difference between his pension and the £18,600 minimum financial requirement.
"Now that his daughter is aged three, there are more free nursery hours available to her which would make his search for employment easier."
She also suggested the family could be reunited if Mr Chappell moved to another European Union country where UK income restrictions do not apply.
Mr Chappell met his wife six years ago when she was in the US Navy and both were stationed abroad.