Killer Joanne Dennehy victim Kevin Lee's son's karting hopes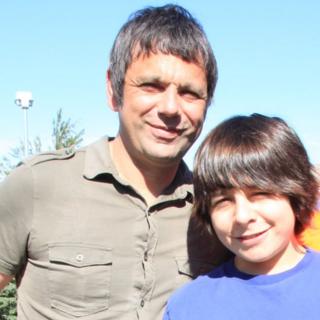 The son of a man murdered by spree killer Joanne Dennehy says he believes his father fell victim to her because he always saw the best in people.
Dennehy, 31, murdered Kevin Lee, 48, along with Lukasz Slaboszewski, 31, and John Chapman, 56, in March last year, and dumped their bodies in ditches.
On Friday, she was handed a whole-life prison sentence at the Old Bailey for the murders and two attempted murders in Hereford.
Mr Lee was Dennehy's landlord at the time he became her third victim and was described in court by the judge as "a much loved husband and father".
He lived in Peterborough with his wife Cristina and their two children, Chiara, 26 and Dino, 15.
Asked what kind of a man his father was, Dino said: "Kevin Lee was my dad, but he helped a lot of people with his housing business.
"He basically just gave everybody a chance and in his eyes nobody was better than anyone else.
"Unfortunately, people took liberties and sadly that's why dad's not here with us anymore.
"He tried to help everybody, but some people you just can't help."
Dennehy murdered Mr Lee at a property he owned in the Dogsthorpe area of the city. His body was discovered in a ditch in Newborough the following day.
Dino and Chiara were in court to hear the judge's ruling on Dennehy.
'Justice served'
"The Old Bailey was daunting", Miss Lee said.
"But I think it was the right place to finally get that justice, and thank God the new ruling... means that she can have the maximum term that she absolutely deserves to have."
"It was tough, but justice has been served and we're all happy," Dino said.
"The last year has been quite tough and difficult for all of us, especially my mum, but we've just had to be strong. We've all helped each other through this horrible time."
The teenager says his "passion" for kart racing - a love he shared with his father - has helped him deal with the events of the past year.
"Me and my dad used to go karting together most weekends," he said.
"Dad bought me a kart as a present. He told me to fetch something from the car, and inside was a kart. I was very pleased."
On 29 March, the anniversary of his father's death, Dino will take part in what he describes as "one of the most important races of the year", the first round of the British Karting Championships.
He is taking part, he says, in memory of his father.
Sponsorship appeals
Last year he finished fifth. This year he says he intends to win.
"I especially want to win it for my dad," he said.
"When I'm karting I can feel dad there. It's a passion that we both shared together, so, although he's gone now, karting for me is really special and it brings my dad back in many respects.
"Shortly before my dad was taken, we just used to go upstairs every night and send emails out about sponsoring me. It's very difficult in the current climate."
Referring to how Dennehy laughed in the dock as the judge handed down her life sentence, Dino said he was not surprised.
"Well, a person that callous... it wouldn't really shock me that somebody like that would laugh," he said.
"I have no feelings towards her. She's in the best place now - in jail."