Peterborough children's centres to close despite last-ditch protest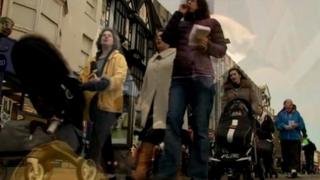 A last-ditch attempt by parents to prevent the closure of eight out of 15 council-run children's centres in Peterborough has failed.
The Conservative-run council rejected parents' protests at an extraordinary meeting on Wednesday night.
Councillor Sheila Scott said children's services would be run in a different way in future to save £1.18m.
Members voted 26-23 for the measure, to be confirmed by the council next week, but parents pledged to fight on.
The new arrangements would see the establishment of a network of four children's advice "super hubs" and three outreach centres.
A campaign group which fought the restructuring plan said it would take the decision to the Local Government Ombudsman.
The council said the eight children's centres earmarked for closure will be "re-used by other providers of services for families with children under the age of five".
A parents' group spokeswoman said she had hoped the council would reconsider the closure decision after all the figures were scrutinised.
"These centres are important for children and parents as a wide range of services and advice was available from each," she said.