Solar panel plans for Peterborough move forward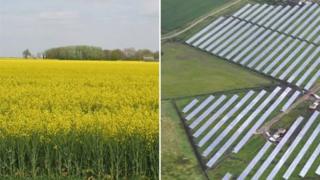 Plans to build solar panels on a farm on the outskirts of Peterborough have moved a step forward after being considered by the council's cabinet.
Peterborough City Council was looking at renewable energy schemes at three farms - America Farm, Newborough Farm and Morris Fen.
But following objections the cabinet was asked to reconsider the plans.
Councillors decided that the America Farm solar scheme should go ahead if conservation concerns can be overcome.
It will now go to the council's planning committee at a later date for a final decision.
Proposals to install both wind turbines and solar panels on the two other farms were put on hold while further consultation takes place.
The plans have been opposed by the National Farmers Union, which said up to 18 city council tenant farmers could lose their livelihoods if the energy park went ahead.
At a committee last year concerns were raised that the proposed solar power site at America Farm would only break even or make a loss.
But Marco Cereste, leader of the Conservative-controlled council, said he was confident the project would generate up to £6m over the next 25 years.