Peterborough's £130m regeneration bid backed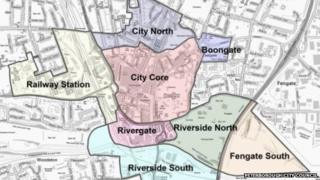 Plans to bring £130m of business investment into Peterborough to help regenerate the city centre have been backed by a council's cabinet.
Conservative-led Peterborough City Council aims to bring in UK and overseas investment to build new homes and create new jobs.
The plans will begin with a £3m council investment to develop projects.
Labour and Lib Dem group leaders welcomed the plans in principle but called for more transparency.
The plans, which will go before the full council for a final decision in March, involve the setting up of a Peterborough Investment Fund.
This would be an off-shore fund, for the money provided by outside investors, based in Guernsey.
Nick Sandford, leader of the Lib Dem group on the council, said: "In principle it is a good thing to get investment to kick-start major regeneration projects for Peterborough.
"But my concern is the the fund will be an off-shore fund, at a time when the treasury is trying to clamp down on the use on off-shore funds to avoid tax. We also need more information on the investors."
Nazim Khan, leader of the Labour group on the council, said: "At the moment any investment is welcome, but there are a few question marks about who the investors will be. We need more transparency."
Simon Machen, director for growth at the council said: "As is common practice in such situations, our potential investors have opted to base the fund in Guernsey, which they are quite at liberty to do.
He said it would be subject to UK financial regulation which "means that every pound invested in the fund would be subject to the UK's unparalleled compliance checks and scrutiny which will ensure that the money has come from a legitimate and approved source".
The council will identify land to be sold to developers at market value.
The investment fund could be set up by the summer and the first building work could start in early-2016.