Landbeach 'pirate island' permission granted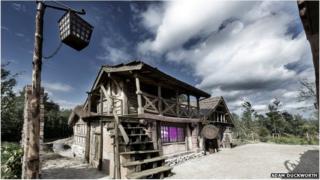 A family who built a "pirate island" on their own land without first securing planning permission have been told it can stay.
The Dickerson family had the island created at a former quarry at Landbeach, Cambridgeshire.
Pirate-style buildings were put up without council approval, so retrospective planning permission had to be sought.
South Cambridgeshire District Council said it was a "unique application".
"It is not often you have someone build a pirate island, let alone this far from the sea," a spokesman said.
Retrospective planning permission was first sought for "Challis Island", which includes a lagoon and tavern, last July.
However, it was later withdrawn and resubmitted to include more trees and screening hedges, and a new access route to the site.
"Although we have always been very positive about this application, and the owners have secured planning permission retrospectively, we always advise people to get in touch with us before they consider carrying out any work," Nick Wright, the council's cabinet member for planning, said.
The island was created by Kettering-based company The Master Wishmakers using material dredged from the lake which sits on the family's land.