Cambridgeshire medical pilot takes A&E care to accidents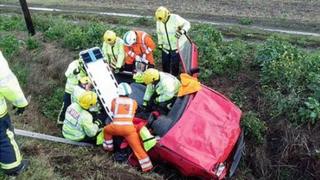 People suffering life-threatening injuries in accidents will soon be treated at the scene by doctors specialising in critical care.
Pre-Hospital Emergency Medicine (PHEM), which has been developed in Cambridgeshire, takes enhanced A&E skills out to patients.
It focuses on critical care on the scene and during transit and is the first new medical sub-specialty to be approved by the General Medical Council in several years.
The project is a partnership between Addenbrooke's Hospital and the medical charity Magpas Helimedix.
Dr Nick Foster was the first national trainee in the new specialism and will finish his training in July.
"My skills are best placed as early as possible in the disease process, and that is where I can make the biggest difference," he said.
The new specialism and training is being seen as a model for elsewhere in England and even around the world.
For more on this story, watch Inside Out on BBC One East, Monday 24 February at 19:30 GMT, or afterwards on the BBC iPlayer.