Peterborough Perkins factory chemical alert caused by 'dehydrating acid'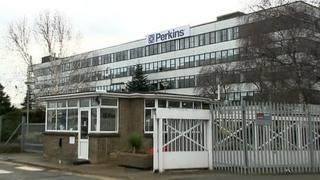 A chemical alert at a Cambridgeshire factory which led to a controlled explosion being carried out was caused by dehydrating acid, the firm said.
Nearly 100 workers were evacuated from Perkins at Peterborough early on Wednesday when picric acrid was found in an "unstable" state.
Nearby residents were told to stay indoors while RAF Wittering experts detonated the chemical.
Perkins said operations had since returned to normal.
Peterborough is the headquarters of Perkins, which makes diesel and gas engines for industrial, construction and agricultural machines.
Cambridgeshire Police said 250g (8.8oz) of the explosive trinitrophenol, otherwise known as picric acid, was safely detonated at just before 08:00 GMT on Wednesday.
A spokeswoman for Perkins said: "It was discovered that some picric acid was potentially dehydrated on site. In a dehydrated state, it is potentially explosive.
"We use the picric acid in our materials analysis work. At this point, it isn't clear whether the material was actually in an explosive state. We are still investigating.
"The material was in a closed container and in a secure laboratory at the facility. The appropriate authorities were alerted and able to assist with the situation."
An RAF Wittering spokesman said a "small quantity" of the chemical, which has a "legitimate" industrial use, was detonated by its explosive ordinance team.