Controlled explosion on chemicals at Peterborough Perkins factory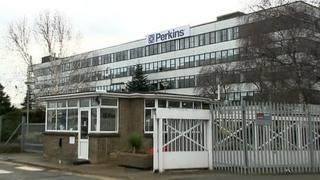 A controlled explosion has been carried out after "unstable" chemicals were found at Cambridgeshire engine factory.
Staff were evacuated from Perkins at Peterborough shortly after 01:30 GMT when the trinitrophenol was found in a volatile state.
An explosive ordnance team from RAF Wittering carried out the explosion shortly before 08:00 GMT.
Residents living near the site are now able to leave their homes and road closures have also been lifted.
Peterborough is the headquarters of Perkins, which makes diesel and gas engines for industrial, construction and agricultural machines.
Cambridgeshire Police said 250g (8.8oz) of the explosive trinitrophenol, otherwise known as picric acid, was safely detonated.
An RAF Wittering spokesman said a "small quantity" of the chemical, which has a "legitimate" industrial use, was detonated by a team earlier. He added there was no further threat to the public.
No-one from Perkins has yet been available for comment.