Threatened Cromwell Museum wins reprieve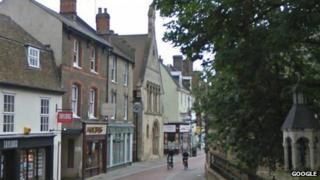 The Cromwell Museum, threatened with closure in 2015 as part of Cambridgeshire County Council cuts, has been saved for at least one more year.
A package of £149m of savings over the next five years included closing the Cromwell Museum in Huntingdon.
As part of the budget it would have lost its £30,000 grant in 2015-16, but a meeting of the full council decided to defer the cut for a year.
The museum is based in the school where Cromwell was educated.
The council-owned museum attracts about 13,000 visitors a year.
Councillors at a full meeting of the authority backed a budget for the next five years.
Since consultation on its budget plans in January, the ruling Conservative group, which is the largest party, decided to put an extra £500,000 into transport.
The council's £751.6m budget for 2014-15 includes savings of about £38m, with more planned in the budgets up to 2018.
The measures include £32m in cuts to children, family and adult services.
The council said that after listening to the public and opposition groups, the cuts to children's centres were reduced by £200,000, and cuts to mental health services by £200,000, in order to support these services through a period of transformation.
The council agreed to increase council tax by 1.99%.
The council, where no one party has overall control, employs about 5,600 staff, excluding teaching staff which would take the total to 17,000.
It is one of the largest employees in the county.