Investors backing Peterborough's £130m regeneration plan not divulged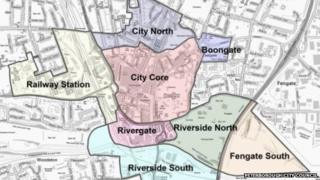 A council has announced a £130m regeneration plan for its city centre but has refused to divulge the names of its investors.
Conservative-led Peterborough City Council said "a mix of UK and overseas investors" would "deliver much needed new jobs and new homes".
The council's Liberal Democrats are asking for "transparency" about the sources of the investment.
More details will be released after a council cabinet meeting on 24 February.
'Innovative' investment
If the cabinet recommends the proposal, the council will set up the Peterborough Investment Fund, into which it will put property and land assets, in equal partnership with long-term investors.
The council's director of growth and regeneration Simon Machin said: "I can't give you names at the moment, but as with any investment the investors in it can change at any time.
"What it means is that about £130m of new investment...in a UK-managed investment fund would bring forward a number of key city-centre regeneration sites to deliver much needed new jobs and new homes."
The council added that land transferred to the fund would be sold at the full market rate and be subject to planning permission.
Liberal Democrat council leader Nick Sandford: "We're told that some of [the investors] may be governments of foreign countries and some are private individuals, but when we asked a bit more about this fund we were told it's been based in an off-shore tax haven.
"We are dealing with public funds here, so some degree of transparency about where this money is coming from is actually important."
Conservative leader Marco Cereste said: "In this very difficult financial climate, when government is giving less and less funding to local authorities, we need to come up with innovative new ways of attracting big investment into Peterborough."
The investment fund will be set up by the summer and the first building work could start in early 2016 if the scheme gets cabinet approval on 24 February.