Imperial War Museum Duxford opens to visitors after storm damage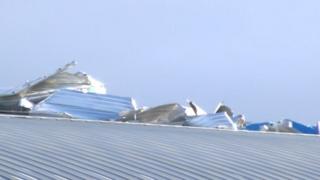 A museum forced to close for a second time after storm damage to the roof of one of its exhibition halls has partially reopened in Cambridgeshire.
Imperial War Museum (IWM) Duxford was closed for safety reasons on Saturday.
Strong winds damaged the roof of the AirSpace hangar. The same problem caused the museum to close in early January.
A spokeswoman said the museum was open to visitors, with the exception of the AirSpace exhibition and visitor centre.
"The damage to the roof of AirSpace has been assessed this morning and we are fully aware of the roof's condition.
"We are now working with the original building contractor to determine the necessary next steps to repair and make good the damage."
Admission prices have been reduced to reflect the fact that visitors would not be getting "the full IWM Duxford experience".
Half-term activities would be available on Tuesday, the spokeswoman said.