Joanne Dennehy 'not sorry' for Cambridgeshire ditch murders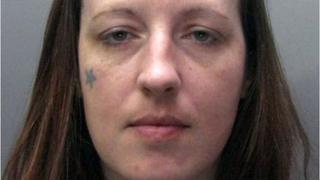 A woman who killed three men and stabbed two more has told a court she was "sorry" for the attempted murders but "not sorry for the murders".
Joanne Dennehy, from Peterborough, appeared at Cambridge Crown Court with three men for a pre-sentencing hearing.
The 31-year-old, who dumped the three men's bodies in ditches in the Cambridgeshire Fens, made the outburst while being led from the dock.
All four will be sentenced at the Old Bailey later this month.
Dennehy pleaded guilty to murdering three men in Cambridgeshire and attempting to kill two others in Hereford in November.
She appeared again at Cambridge Crown Court with accomplices Gary Stretch, 47, Leslie Layton, 37, and Robert Moore, 55.
The sentencing hearing was told Dennehy murdered three men she knew - Lukasz Slabozewski, John Chapman and Kevin Lee - before attacking two strangers while on the run in Hereford.
Her barrister Nigel Lickley QC said she maintained that none of the murders was sexually motivated and she was not in a relationship with any of the men at the time, apart from one brief occasion with Mr Lee.
He also said Dennehy wanted it to be known that Mr Lee's body - found dumped in a ditch with his buttocks exposed - was not left in that position to humiliate or embarrass him, it was simply found that way.
He added that Dennehy was "disgusted" at herself for attacking two complete strangers in Hereford.
The case was adjourned.