Plans for 19,000 homes in south Cambridgeshire backed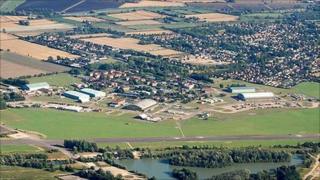 Plans to build 19,000 homes with the creation of a new town and village in Cambridgeshire have been backed by councillors.
South Cambridgeshire District Council's cabinet gave its support to the Local Plan which also calls for the creation of 22,000 jobs.
A new town is proposed for the former Waterbeach Barracks and a new village at Bourn Airfield.
A final decision on the plan will be made by the council on 13 March.
The Local Plan includes a call for:
A new town north of Waterbeach with 8,000 to 9,000 homes (1,400 by 2031)
A new village at Bourn Airfield with 3,500 homes (1,700 by 2031)
A development of 1,200 homes at Cambourne West by 2031
A development of 1,200 homes east of Cambridge north of Newmarket Road, called the Marshall's Wing development
The building of 110 homes north of Cherry Hinton
A 540-home development at Sawston and 90 homes at Comberton
The sites listed are in addition to the 14,000 homes already committed to in locations such as the edge of Cambridge and the planned new town of Northstowe.
'Tough choices'
Pippa Corney, cabinet member for planning policy, said: "At the beginning of the process people told us they would prefer a plan which focuses homes in new towns and villages, which we have done.
"We have listened to what has been said, but we have to make what has turned out to be tough choices. Our economy makes the district one of the fastest growing in the country so high quality and well-connected homes are much needed to continue our success story and quality of life."
In October last year, local campaigners handed 1,543 letters of objection against the plans to build new homes at Bourn Airfield with complaints about buildings homes in a rural area.
The Local Plan is a set of policies and land allocations that will guide the future of south Cambridgeshire over the next 20 years. Once adopted, all planning applications will be assessed against the policies in the plan.