Floods force Waterbeach woman to hire toilet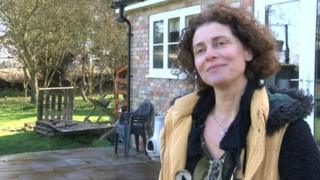 A householder near Cambridge says she has had to hire an outdoor toilet after raw sewage flooded her garden.
Anglian Water said rain water had filled up its pipe network causing overflows in Waterbeach.
Suzy Kay said she was advised not to use her house's facilities and has hired a portable toilet as a result.
The water company said its engineers were working to prevent flooding of homes.
'Pretty disgusting'
Ms Kay said raw sewage had poured in to her garden from three manholes on her property.
"It was pretty disgusting and we had sewage and water from the whole of Waterbeach in our back garden," she said.
"We just had to sort ourselves out and hire a portable toilet at our own expense, because Anglian Water engineers told us it was considered to be an 'act of god', but I will be taking it up with the company."
Ms Kay said it cost £84 to hire the toilet for a week.
Satnam Kaur, from Anglian Water, said: "We're very sorry for any alarm caused and would like to reassure any customers experiencing problems with their drains that sinks and toilets in their homes will work as normal, but it will take longer than usual for the water to drain away.
"The persistent and heavy rainfall is then finding its way into our network causing sewers to back up and overflow.
"Our top priority is to prevent flooding to people's homes, and we will be working to deal with problems in these areas first which can mean it may take us a little longer than usual to reach people affected in other areas, but we will respond to all customers as soon as we can."