Ambulance vehicles stuck on Bar Hill village green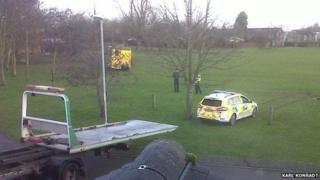 Two ambulance vehicles had to be recovered from a waterlogged village green after they responded to a call from two drunk teenagers.
The ambulance and rapid response car got stuck in Bar Hill near Cambridge for three hours on Saturday morning.
The East of England Ambulance Service said it had received a call about a casualty in a ditch.
It turned out the two youths did not need help. Police spoke to them, but they face no further action.
The ambulance service said it was called out to the village green at about 05:00 GMT, but its two vehicles both got in to difficulties.
The rapid response vehicle had been driving around the green with its headlights on trying to locate the reported casualty.
An ambulance spokesman said: "Crews worked hard in very difficult conditions for hours but no patient was found. We would urge people to please use 999 responsibly.
"We provide an emergency service for the people who need us most and our ambulance crews could have been out treating seriously ill patients."