Wisbech councillor Jonathan Farmer in court on WW2 gun charge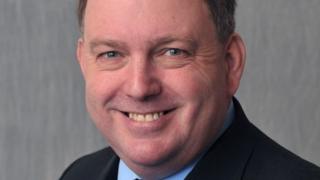 A Cambridgeshire councillor and former town mayor has appeared in court charged with possessing a firearm.
Police arrested Jonathan Farmer, 56, after a World War Two pistol was found at his Wisbech home on 10 January.
Mr Farmer, who has been suspended from the ruling Conservative group on Fenland District Council, appeared before King's Lynn magistrates on Monday.
He will next appear at Cambridge Crown Court on 22 April.
Mr Farmer, who lives in South Brink, said the German Walther PPK pistol was a gift from a friend, a British veteran of the Battle of Monte Cassino in Italy in 1944.
"He took it off a German officer during the battle, but basically his wife wanted it out of the house, so he gave it to me some years later," Mr Farmer said.
The gun, which he was told had been deactivated, had "sat in a cupboard for about 25 or 30 years," he added.
Mr Farmer, who is the district council's representative for Medworth and served as Wisbech's mayor from 2008 to 2009, could face a minimum of five years in jail if he is found guilty of the charge.