Graham Stagg retirement: Policies 'followed correctly'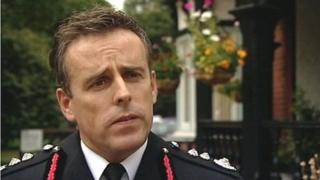 Employment policies that allowed Cambridgeshire's chief fire officer to return to his old job only a month after retiring were "followed correctly", the fire service has said.
Fire minister Brandon Lewis criticised the "re-engagement" of Graham Stagg, saying it looked like a move to get around government pension changes.
But an internal review found all policies were correct and "compared well" with other organisations.
Mr Lewis has yet to comment.
In October, the fire authority said it had agreed 18 months previously to allow Mr Stagg, who was believed to be on a total salary with bonuses and pension of more than £200,000, to continue working after his retirement.
It drew criticism from the Fire Brigades Union (FBU), which said it created an impression of a "cosy relationship" at the top at a time when firefighters were protesting over working conditions and pensions.
'Maintain stability'
Mr Lewis wrote a couple of letters to the service asking it for clarity over the deal, which prompted an internal review.
The service said it had since found that "all policies were followed correctly" and its temporary ban of allowing staff to leave and be "re-engaged" had been lifted.
"Re-engagement not only allows us to make pension contribution savings and retain individual skills and knowledge, but particularly in this instance it has allowed us to maintain stability in the senior team," said Sir Peter Brown, chairman of Cambridgeshire and Peterborough Fire Authority.
"This allows us to continue the good work currently ongoing to meet budget pressures and ultimately provide a better service to the people of Cambridgeshire and Peterborough."
In an internal blog last year, Mr Stagg denied he was "feathering his nest", saying his return to the job followed government guidance and advice.