Peterborough murders: Men 'enjoyed helping Joanne Dennehy'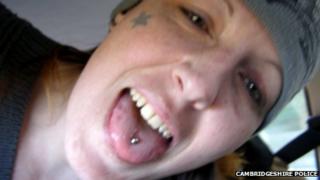 Two men accused of helping multiple murderer Joanne Dennehy were "enjoying the moment", a jury has heard.
Dennehy, 31, admits stabbing three men and dumping their bodies in ditches in Cambridgeshire.
At Cambridge Crown Court Gary Stretch, 47, denies two counts of attempted murder. Leslie Layton, 36, has denied perverting the course of justice.
Peter Wright QC, prosecuting, said there had been a "deafening silence in this court from each of them".
Gary Stretch, whose real name is Gary Richards, and Mr Layton are both also accused of preventing lawful burial.
Neither man has given evidence in their trial.
The bodies of Lukasz Slaboszewski, 31, John Chapman, 56, and Kevin Lee, 48, were found dumped in ditches near Peterborough in March and April.
Mr Wright, in his closing speech, told the jury neither of the accused had "chosen to give an account, to look you in the eye and tell you why, to have their account tested by cross examination, scrutinised by you".
He added: "There is clear evidence they never acted under duress, they were enjoying the moment."
Mr Wright said Mr Stretch "revelled" in Dennehy's company, adding: "He luxuriated in the notoriety of it, he was proud of what he had done. He was contented when Joanna Dennehy kissed him as a mark of approval.
"He told police Joanna Dennehy was not a threat to him, he was not in fear of her."
Dennehy, who is in custody awaiting sentence, has pleaded guilty to murdering the men and attempting to murder two other men in Hereford.
The hearing continues.