Otter cub in Cambridge University punt river rescue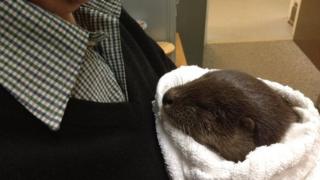 An apparently abandoned baby otter had to be rescued by punt when it became stranded in the River Cam in Cambridge.
Staff from St John's College heard the cub's cries and discovered it in a hole in a wall near the Bridge of Sighs.
Housekeeper Belinda Peat said the otter then fell into the river and "struggled desperately against the current".
A punter came to its rescue and took it ashore. The cub was moved to a wildlife sanctuary where it was said to be doing well with other abandoned otters.
Miss Peat, a supervisor at the college, said she and colleagues Daniel Molden and Richard Pauley, first thought they had come across an injured bird when they heard "loud squawks" coming from the bridge on Monday afternoon.
'Slept like a baby'
"The tiny cub popped his head out, and tried to swim for it," she said.
"We knew enough not to try and rescue wildlife, but the poor thing was clearly in distress. The current was incredibly strong and the river was so high, it was struggling and trying to cling to the wall.
"It was clear he really wasn't going to last very long," she added.
They asked two punt operators for help, until a third agreed, and paddled over to the cub.
"He wrapped the otter in a towel and handed him to us," Miss Peat said.
"The minute Richard took him in his arms, the otter calmed down and just fell asleep like a baby.
"He must have been absolutely exhausted because he had been struggling for quite a while."
They warmed the otter up in a college office before taking it to Cambridgeshire Wildlife Care in Haddenham.
Dinah Northfield, co-founder of the sanctuary, confirmed the cub was a male, aged about eight weeks.
"Some animals really should be left alone, but in this case I think it was the right thing to rescue it. It was obviously in distress and they had no time to do anything else," she said.
The cub was transferred to Tiggywinkles Wildlife Hospital in Buckinghamshire on Tuesday.
"They had two other abandoned otter cubs there, and it's best for them all to be together until they can be released," Miss Northfield said.
"The little fellow was so sweet and he seems to have recovered very well from his ordeal," she added.