'Medieval' skull found in leaky Huntingdon drain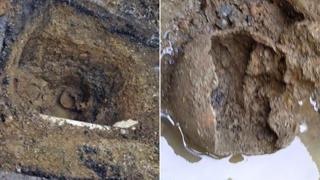 A human skull plus other bone fragments have been dug up by engineers fixing a leaking pipe in Cambridgeshire.
Anglian Water contractors made the discovery in Walden Grove in Huntingdon on Monday, and called the police.
The skull was examined by archaeologists and is believed to be medieval, more than 700 years old.
Anglian Water's James Ball said workers often found animal bones, but added: "This is my first human."
He said: "It's not every day I get called by engineers to say they've discovered a human skull. It's certainly an unusual one.
"We're experts in water pipes not human bodies, but from what we're told the police and archaeologist think this would have been here for a few hundred years."
'Lost churches'
Robin Clare, the engineer who found the skull, said: "I've been working in utilities for 13 years now and this is the most unusual thing I've found."
He said he and his co-worker initially thought they had discovered another buried pipe.
"The idea of uncovering human remains is not something we really think about... It took a while for us to realise that it was a skull," he said.
"It's not something you expect to find in a residential street."
Quentin Carroll, a county council archaeologist who examined the remains, said: "Our best guess is that the bones date from the 13th or 14th Centuries.
"The position of the skull and other clavicle bones suggest this was an in-situ burial.
"There were a number of churches and altars in the area at that time, which have now been lost, but the surrounding graveyards remain," he added.
An archaeological contractor has been brought in by Anglian Water to oversee continuing work at the site.
The skull will be reburied.